21st Apr 2022
Alamport Inc. (Alamport), via Alam NiX Renewables Pte. Ltd. (a joint venture with NiX Group, ANR) together with Shizen Energy Inc. (Shizen Energy) announced that we completed construction of an approximately 1MW solar power plant in Indonesia. The completion ceremony was held on April 19, attended by Vice Minister of Embassy of Japan in Indonesia Mr. Masami Tamura, Deputy Ambassador of Embassy of Switzerland Mr. Philippe Strub, and other honored guests.
ANR and Shizen Energy have established a local subsidiary, PT ATW Alam Hijau (AAH), together with the ATW Group. ATW Group is involved in sales of solar power generation equipment and construction of solar power plants. Through its operation, AAH aims to develop the solar power generation business in Indonesia.
This solar power plant was installed by AAH on land adjacent to PT. Anugerah Pharmindo Lestari's (APL) distribution facility in Cikarang, West Java. APL, a group company of Swiss health care corporation Zuellig Pharma, has a logistics facility in the industrial park in Cikarang and distributes materials. The electricity generated at this solar power plant will be utilized by APL.
"APL plays an active role in prioritizing the value of sustainability in business. APL will continue to collaborate with strategic parties to achieve ambition in our sustainability mission with other initiatives." said Christophe Piganiol, President Director of APL.
According to the press release from APL, "With the spirit to provide the best for future generations, APL strives to develop sustainability pillars. In addition to the Cikarang NDC facility, APL is also preparing the installation of solar panels for APL Medan and is targeted to be completed in 2022. Through our Sustainability programs, APL hopes that APL can have a positive impact on the environment."
APL can reduce electricity costs by using price-competitive clean renewable energy without initial investments. In addition, by switching a portion of its electricity consumption to renewable energy sources, APL will contribute to the effective reduction of greenhouse gas (GHG) emissions in its business activities. This project is expected to generate 1,089MWh of electricity per year and reduce GHG emissions by 669t-CO2 per year. The Indonesian government has declared that the country will achieve carbon neutrality by 2060, and this project will also contribute to achieving that goal.
■Project overview
Solar power rated output
0.806MWp
Facility and location
Logistics facility of PT. Anugerah Pharmindo Lestari (APL)

Cikarang, West Java, Indonesia

Start of construction
October, 2021
Construction completed
April, 2022
■Power plant, Completion ceremony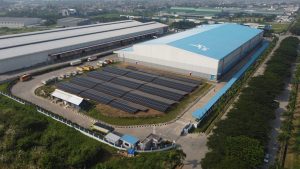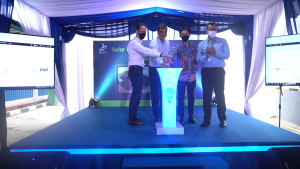 [About ATW Group]
Founded in October 2017, ATW Group has been one of the fastest growing and prominent companies that specializes in solar energy solution with a total portfolio of 20 MWp in Indonesia. Envisioning "energy independence for everyone with the power from the sun," ATW Group provides integrated solar solutions: solar equipment distribution (under PT ATW Sejahtera), engineering & construction services as well as research & development (PT ATW Solar), and solar zero-investment rental services (PT ATW Alam Hijau).
URL: https://www.atw-solar.id/
[About NiX Co., Ltd]
Founded in April 1979. NiX Co., Ltd primary provides engineering services and develops renewable energy generations both in Japan and overseas with 15 group companies to operate business activities. Especially in Indonesia, NiX Co., Ltd has established a fully owned subsidiary of Indonesian engineering company and 2 on-going hydro power generations under development and construction and continue to expand the business in Indonesia.
URL: https://www.shinnihon-cst.co.jp/
[About Shizen Energy Inc.]
Founded in June 2011. With the purpose of "We take action for the blue planet.", Shizen Energy Group has contributed to the development of approximately 1 gigawatt worth of renewable energy across Japan. In addition to development, EPC (engineering, procurement, construction), O&M (operation and maintenance) and asset management business for the installation and operation of large-scale renewable power plants, we also provide decarbonization solutions such as PPA (Power Purchase Agreement) business by small and medium-sized power plants and electricity retail business. The company intends to construct photovoltaic power plants in countries around the world, beginning with the regions of Asia and Brazil from 2018.
Headquarters: Fukuoka Ohori Bldg. 3F/6F, 1-1-6 Arato, Chuo Ward, Fukuoka City, Fukuoka Prefecture
Representative Directors: Ken Isono, Kenji Kawado, Masaya Hasegawa
URL: http://www.shizenenergy.net/en/
[About Alamport Inc.]
Founded in March 2015. Alamport is engaged in business development, investment, consulting and advisory services to achieve the promotion of renewable energy projects that are closely aligned with local needs. The company is involved in a wide range of renewable energy projects using local natural resources effectively, including solar, hydro, biomass, and biogas. Shizen Energy Inc. is a 20% shareholder in Alamport.