Consulting & Advisory Services
Alamport provides a consulting & financial advisory as a one-stop service solution through a client-centric approach and on-the-ground support.

Total fund raised through our advisory services in Indonesia is USD 55mil
Total Japanese government grant raised for 8 projects is USD 23mil

Selected Credentials: "Trusted as the advisor for TEPCO RP to invest in PT Kencana Energi Lestari Tbk. ("KEL") with USD ±27 million fund raised"
Some of our credentials

FINANCIAL ADVISORY FOR LOCAL DEVELOPERS

| Client | Scheme |
| --- | --- |
| Hydro Developer | Advising listed holding company to invite strategic investors |
| Hydro Developer | Inviting equity investors for hydro developer holding as financial advisor |
| Hydro Developer | Advising hydro developer holding targeting IPO to invite strategic investors |
| Hydro Developer | Closing USD 1 million bridge funding via crowdfunding |

ADVISORY FOR RENEWABLE ENERGY MARKET ENTRANCE

| Client | Scheme |
| --- | --- |
| Japan Renewable Energy Developer | Origination hydro project, advised acquisition, and supported financing |
| Japan Electric Power Company Group | Maker study, originated potential partners, and advising joint development |
| Japan Infrastructure Company | Origination of local partners & projects, and advisory for business expansion |
| Japan Energy Company | Advisory on cooperation on biogas business with a listed plantation owner group |
| Japan Electric Power Company Group | Advised on a strategic alliance with state owned group company |
| Japan Renewable Energy Developer | Supported the sourcing of biogas fuels suppliers and negotiation |

PROJECT MANAGEMENT SUPPORT AFTER INVESTMENT

| Client | Scheme |
| --- | --- |
| Japan Renewable Energy Developer | SPC management including bridging investor with local partner and debt raising |
Business Development & Investment
Alamport strategically collaborates with Indonesian partners to develop renewable energy business by investing in various stage of project development and being the driver for its success.
Our credentials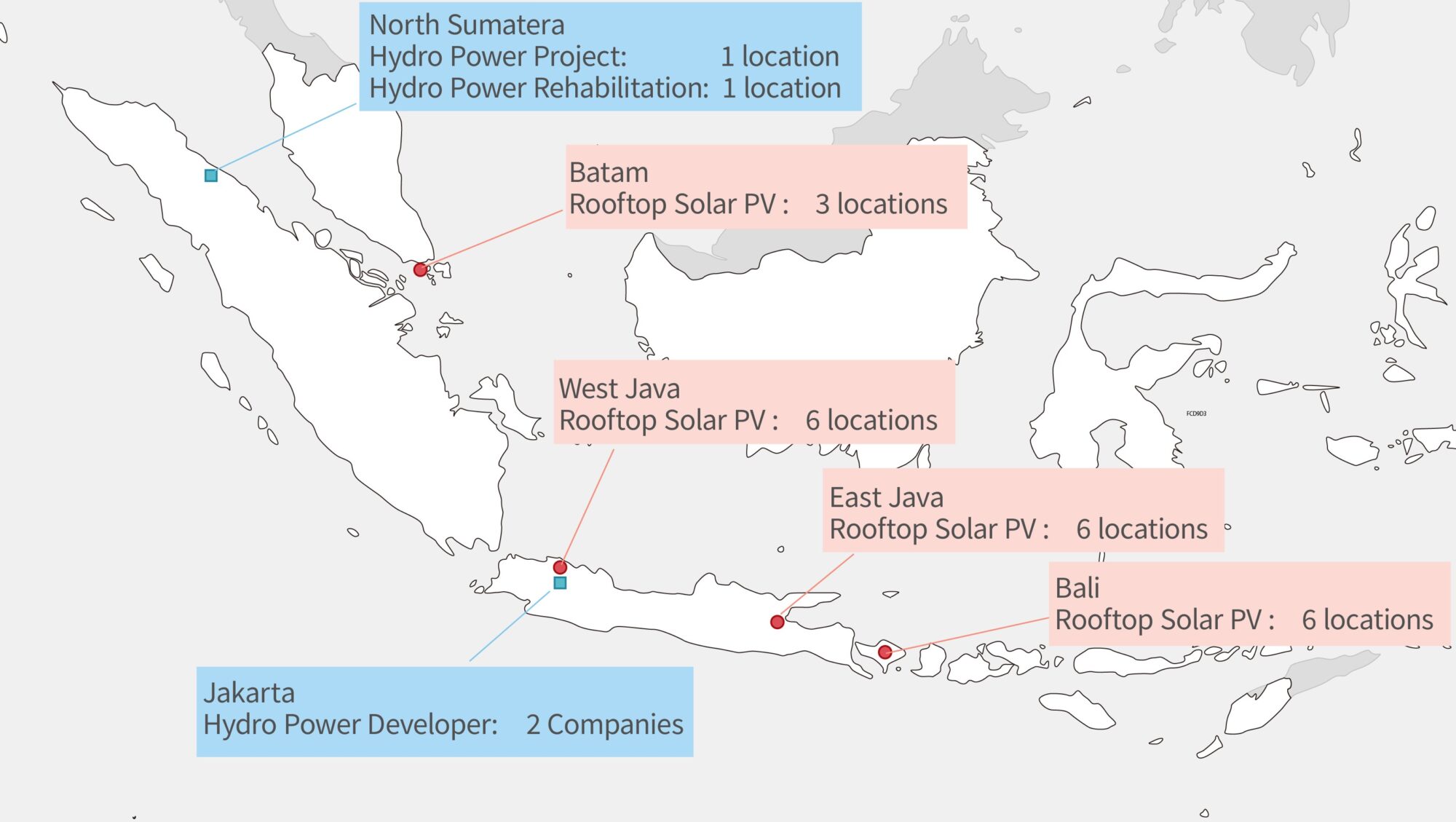 Overview of Our Main Business
Rooftop Solar PV Business
Overview
Alamport established a rooftop solar business in Indonesia through an Indonesian entity named PT Alam Energy Indonesia ("AEI") together with Shizen Energy and Nix Group. The rental company was launched in collaboration with an Indonesian partner. As of Feb 2023, AEI has a total of 11.7 MWp of solar PV projects.
News Release (Rooftop Solar PV)
9th Aug 2023

9th Aug 2023

17th Oct 2022

21st Apr 2022
MORE
Investment in Hydro Power Business
Overview
Alamport and its group companies have invested in several hydro power developers and hydro projects in Indonesia. We offer venture capital type of funding aiming to grow together with partners. We can also offer equity type of capital for selected hydro projects as well as mid to long term financing support for the rehabilitation of hydro power plants.